WHEN FAMILY BECOMES AN IDOL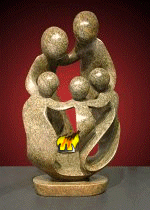 Reb Bradley
I. Common assertions made by those who claim the modern church has made family an idol
A. An idol is something which assumes God's place in our lives, receiving the devotion He deserves
Greek for Idol: eidolon, i'-do-lon; something fashioned or formed which can be viewed (in contrast to the living God, who is invisible, was never formed, and has no shape). See Romans 1:25.
ê The church at large is accused of giving the family greater devotion than it gives God
B. Alleged signs of imbalanced devotion:
1. Compared with past centuries, entire ministries are now devoted to families
2. The most popular Christian radio shows are geared toward families
3. Family oriented self-help books are now top sellers
4. Those shopping for a new church home often put "family oriented" as the top qualification
5. Churches have begun marketing themselves as having programs for the whole family
6. Churches have inserted "family" into their names and slogans
7. Professional Marriage and Family counselors have been given access to church pulpits as if they had the authority or value of Bible teachers
C. Nowhere in the Bible does God instruct His people to focus on the family
D. None of the apostles presented seminars on parenting, marriage or family life
II. Why these assertions are generally incorrect:
A. Concentrating on one area of the Christian life does not necessarily qualify as idolatrous devotion
ê Paul preoccupied himself with ministering to each church according to their needs
ie: Timothy was addressed concerning pastoral issues; Corinth was addressed chiefly regarding disunity and misuse of spiritual gifts; Galatians were dealt with regarding grace and the Law.
ê If concentrating on a weak area of one's life were idolatry, then all specialized ministries would be fostering idolatry
B. Modern Christian families are weak and broken, so need to concentrate on getting biblical help ê Parents are wise to seek biblically-based help for their families
C. The Scriptures do instruct us to disciple our children which requires equipping modern parents for the task
Eph 6:4 Fathers, do not exasperate your children; instead, bring them up in the training and instruction of the Lord.
Deuteronomy 6:6-9 These commandments that I give you today are to be upon your hearts. 7 Impress them on your children. Talk about them when you sit at home and when you walk along the road, when you lie down and when you get up. 8 Tie them as symbols on your hands and bind them on your foreheads. 9 Write them on the doorframes of your houses and on your gates.
D. Absence of apostolic modeling does not automatically preclude a practice
E. Strong Christian families are a tremendous means of advancing God's kingdom
1. Christians must unlearn corrupt habits and ideas brought in from the world
2. Christians must use the Word to learn the proper and wise approach to family life
F. Strong Christian families are an efficient means of running a church
1. Families function as small governing units which aid elders in maintaining order
(Num 36:1; Neh 8:13; Eph 5:23)
2. Families simplify the exercise of church discipline (Prov 19:18; 29:17; Titus 1:6)
3. Families provide care of the needy (1 Tim 5:8; 2 Cor 12:14)
4. Families are the base for evangelizing children (Acts 16:34)
5. Families enhance efficiency in outreach evangelism (Acts 18:26; 21:8)
6. Families are an effective training ground for future ministry leadership (1 Tim 3:5)
7. Family relationships offer best opportunity for developing Christian love (Eph 4:2; Prov 17:17)
III. The problem: Some believers ARE imbalanced in their devotion to family
A. Idols are those things in which we put our hope and trust more than God
B. Idols are those things in which we invest ourselves for the purpose of personal gratification
ê The real root of idolatry if self-fulfillment – looking to, trusting in something other than God to satisfy. (Eph 5:5; Col 3:5)
C. We can determine the object of our faith and hope by what most easily causes us grief
ê Our values are revealed by what we stress-out over
IV. The family may have become an idol for us when …
A. Our peace and joy is determined by whether or not we achieve our image of a strong family
B. We look to the family rather than God for our identity and significance
1. We are to look to God as undeserving, forgiven sinners for our significance
2. Children become the source of either our pride or disappointment
3. We are not loving them SELFLESSLY – we are using them so we can FEEL GOOD ABOUT ourselves
4. It has the most power to lift us up or demoralize us
C. We become more concerned with our family's outward form than with their hearts
1. We care more that they are seen as perfectly obedient than as lovers of God and others
2. We can easily become embarrassed by them
3. We are proud that our children call all adults Mr. & Mrs., and despise any child who would dare address us by our first name
4. Which is more important to God – outwardly obedient or compassionate children?
5. We are shallow – not valuing hearts
6. We are impressed by the outward fruit of other parents, so work on the form of the fruit rather than the heart which produces the fruit
D. It has become a measuring stick of spirituality
1. We become proud of our parenting
2. Sit in condescending judgment of all others
3. We discredit or accept others on the basis of their family
E. We are more preoccupied with principles, methods, and ingredients of parenting than leading our children into a vibrant, intimate relationship with God
1. Hyper-sheltering, the best God-centered curriculum, biblical child training principles, and elimination of television will be impotent if you do not bring them to God
2. We need to pursue heart-level, influential relationships with our children
3. Some children in public school enjoy better, more loving family relationships …
4. Family is an idol when it is a thing to pursue, rather than a collective relationship of people who sincerely love God and each other
F. It has become an end rather than a means by which God's kingdom is advanced
1. The goal is not to create a strong family for the sake of having a strong family
2. It is the pre-eminent Christian dream to attain
ê A strong family is a vehicle not a destination
ê Finding a "family strengthening" church is higher priority than one with Bible teaching.
3. We are on this planet to be light (Mat 5:14-15)
G. We think there is a specific path upon which all family-minded people will eventually walk
1. Only the Bible can reliably delineate a path, ie:
2 Pet 1:5 For this very reason, make every effort to add to your faith goodness; and to goodness, knowledge; 6 and to knowledge, self-control; and to self-control, perseverance; and to perseverance, godliness; 7 and to godliness, brotherly kindness; and to brotherly kindness, love. 8 For if you possess these qualities in increasing measure, they will keep you from being ineffective and unproductive in your knowledge of our Lord Jesus Christ.
2. Unless Scripture delineates a path, we enter Phariseeism to set standards for others
ê Like the Pharisees, we may take pride in our position on the path, and condescend to those not as far along
ê All though we have our "ducks in a row", we will find ourselves resisted by God (Jam 4:6)
ê Our children will either become proud or they will become rebellious
H. When it is time to let go of your children into marriage and you can't let go
1. No one is good enough
2. After they are married we still try to control them
I. We are more preoccupied with becoming a strong family than a family of strong Christians
1. A strong family is a side effect of the true gospel
Mal 4:6 He will turn the hearts of the fathers to their children, and the hearts of the children to their fathers; or else I will come and strike the land with a curse." (See Luke 1:17)
2. Children of parents who pursue God in all genuineness will more likely impart a vital faith than those who attend all the family seminars and read all the books
ê Truly loving God will do a greater work in your family than the best curriculum and Bible principles
3. A good marriage should be a side effect of Christians sincerely living their faith at home
V. If we have made the family an idol how do we dethrone it?
A. Know that God loves you and is excited to give you a fresh start
B. Don't spend your life chasing everything that you think might strengthen your family
ê Yes, get practical help on family life, but …
C. Remember that are no guaranteed steps, methods, or principles
D. Give your greatest energy to seeking God and bring your family with you (Jer 29:13)